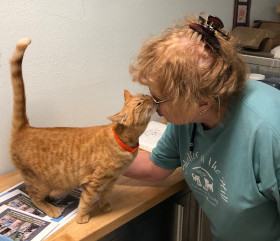 Sitting around a large table, in Mountain Aire Veterinarian Hospital, with Dr. Diane, Mr. and Mrs. Brimble, Candace and others, seemed to me to be a great place to begin to bring reality to the dream of building an Animal Shelter for lost and abandoned animals. The year was 1999.
Fast forward to the completion of Shelter On The Hill: A Humane Society, although officially not open, and the "dropping off" of nine large breed, five week old puppies, the need for this facility was written in concrete. That very concrete the Shelter was built on.
I have owned and been owned by, cats and kittens since I was a child. My Mom was very good about allowing me to keep the felines that "followed me home". She also made me responsible for their welfare. That fact alone kept the number to a minimum.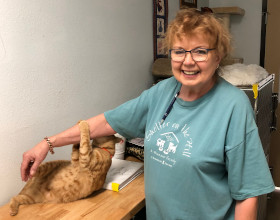 Volunteering in the SOTH Cattery is a never ending source of learning, experience, laughter and being close with other feline enthusiast. And, all of the dedicated Volunteers, in my opinion, set compassion for animals up to a new level.
From the beginning, my husband, Horst, worked by my side doing whatever needed to be done. Anything from computer mailing lists for our fledging Newsletter to putting up and taking down tents at events to taking pictures of our annual Wine and Cheese fundraiser and much more. He would set up little forts in our living room for kittens needing socialization. Then watch our Uncle Fritz black cat, as he worked with the kittens. (Fritz was an alumni of SOTH).
We currently have three cats and one dog, all rescues.