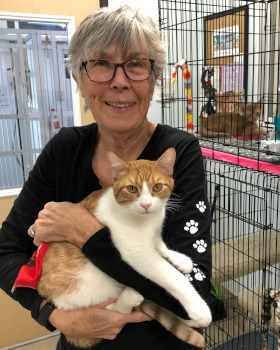 Joy Horner took a few minutes away from her volunteer time at Shelter on the Hill Animal Care Center today to talk with us. We asked Joy to share her enthusiasm for adopting senior shelter animals and why she is a part of the success of Shelter on the Hill.
Joy and Bob Horner have four dogs and one feral tortie cat. All of their pets are rescues. "Ruthie" is their 15 year old German Shorthair Pointer. She came from the Bakersfield SPCA. "Harry" is a local SPCA foster rescue. Joy said he is a foster fail, meaning the Horners ended up keeping this 7 year old Poodle/Chihuahua/Rat Terrier boy. Heart throb "Enzo" is a Cairn Terrier blend, SOTH alum, who was adopted as a senior dog only to have his new owner pass away. Joy was quick to adopt Enzo when he came back to the Shelter a second time. He's now about 16-years old. New girl on the block is "Willow". Willow is just seven months old. Joy knew immediately when she saw her at SOTH that Willow could be her walking & exercise companion. Willow has beautiful black and white coloring. Joy researched her DNA and got feedback from Shelter friends on what breed she might be. Nobody could guess her lineage. Willow is 24% Staffy, 13% Australian cattle dog, 7% St Bernard (yikes), 7% Husky and the remainder is small percentages of hunting and herding dogs. We can say for sure that she is a very lucky dog to have found her perfect home. We want to remember one more dog, "Emma". The Horners adopted elderly poodle mix Emma because they wanted her to have a loving home at the end of her life. They had Emma for about 10 months and made sure she knew she was loved.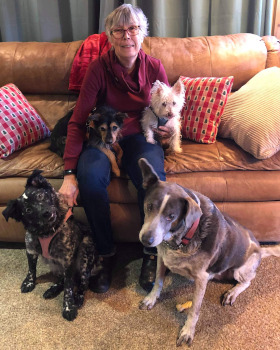 Joy began volunteering at SOTH in 2014. Due to family obligations she stopped volunteering for a little while but is very happy to be back in 2020 on a regular basis. Joy works with both dogs and cats. Most recently she has been working in the Cattery and said considering she was once allergic to cats this is fantastic.
One of the things Joy appreciates overall is the reputation for good work that Shelter on the Hill has in the community. Several of their neighbors have adopted dogs from the Shelter and it is fun to see them as her neighbors. Joy remembers the mountain community before Shelter on the Hill opened and recognizes the volunteer team effort, congenial coworkers, spay/neuter advances, training and home visits that SOTH participates in to make adoption work. One observation is that each volunteer shows extra love and attention to the adoptable pets which helps them find their forever person.