A Shelter Dog's Christmas Poem

'Tis the night before Christmas and all through the town,
every shelter is full-we are lost, but not found.
Our numbers are hung on our kennels so bare,
we hope every minute that someone will care.
They'll come to adopt us and give us the call,
"Come here, Max and Sparkie - come fetch your new ball!"
But now we sit here and think of the days
we were treated so fondly - we had cute, baby ways.
Once we were little, then we grew and we grew.
Now we're no longer young and we're no longer new.
So out the back door we were thrown like the trash.
They reacted so quickly - why were they so rash?
We "jump on the children," "don't come when they call,"
we "bark when they leave us," "climb over the wall."
We should have been neutered, we should have been spayed,
now we suffer the consequence of the errors THEY made.
If only they'd trained us, if only we knew,
we'd have done what they asked us and worshiped them, too.
We were left in the backyard, or worse, let to roam.
Now we're tired and lonely and out of a home.
They dropped us off here and they kissed us goodbye...
"Maybe someone else will give you a try."
So now here we are, all confused and alone
in a shelter with others who long for a home.
The kind workers come through with a meal and a pat,
with so many to care for, they can't stay to chat.
They move to the next kennel, giving each of us cheer...
we know that they wonder how long we'll be here.
We lay down to sleep and sweet dreams fill our heads
of a home filled with love and our own cozy beds.
Then we wake to see sad eyes, brimming with tears -
our friends filled with emptiness, worry, and fear.
If you can't adopt us and there's no room at the inn -
could you help with the bills and fill our food bin?
We count on your kindness each day of the year -
can you give more than hope to everyone here?
Please make a donation to pay for the heat...
and help get us something special to eat.
The shelter that cares for us wants us to live,
and more of us will, if more people will give.

Author Unknown
            
One hot summer day in Chicago in the 1940s when I was just a wee lass we fried an egg on the sidewalk in front of 5419 Fairfield Avenue in Chicago. Thirty years later in the midst Time Magazine's dire predictions of the "New Ice Age" and that we would all be dead in our beds of frostbite by Y2K, my neighbor's children did a summer science experiment and fried an egg on the sidewalk at 1042 Windsor street in San Jose. The summer after we survived the supposed collapse of computers worldwide unable to make the transition from 1999 to 2000, we celebrated by frying an egg on my patio in Sunnyvale. And now it's 20 years later and summers haven't changed - they still get hot enough to fry an egg on the sidewalk - and also to fry your dog's paws.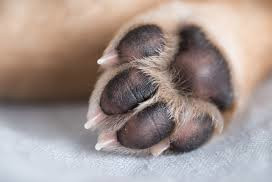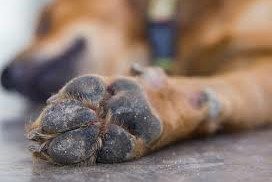 The problem is the asphalt temperature and the outdoor temperature are two very different things. When the air temperature is 77 degrees asphalt in the sun is 125 degrees. When the air temperature is 86 degrees the asphalt temperature is 135 degrees. Since you can fry an egg at 131 degrees just imagine how your dog feels as you drag him along to the farmers market or an outdoor festival being held on asphalt.
Fortunately there's a couple of easy ways to tell if the pavement is too hot for your pups bare paws - the most direct way is walking on it in your own bare feet. Dogs paw skin is not any thicker than the skin on your own feet. Or you can place the back of your hand against the pavement and hold it there for 7-10 seconds. if it's too uncomfortable for you to leave your skin there, then you shouldn't make your dog do it.
Also, think about the time of day. It takes hours for the pavement to cool off after the outdoor temperature goes down. Asphalt soaks up the heat all day and can only cool down after sunset so pavement that was deemed safe for a walk at 9 am may still be too hot in late afternoon. Much better to head to your outdoor event in the morning when the pavement is cool.
As a basic "rule of paw" - if the surface is too uncomfortable for your own bare hands or feet for at least 7-8 seconds then could seriously injure your dog's paws.
And always remember if you want to take an outing with your dog in the summer think water! It's good for drinking and it's also good for cooling hot tootsies, both yours and your dogs!
Candace Huskey, President
Tejon Ranch Conservancy offered a wildflower tour to Shelter on the Hill volunteers on the conservancy land. The wildflowers were spectacular, so is the land. Conservancy Director Ellery told about the ranch, conservancy, flora and fauna. Did you know that Tejon Ranch is .25 if 1% of state?
14% California native plants are on Tejon Ranch Conservancy land. These are just a few of the flowers that are posted here in these photos: Poppy cream cup, Grape soda lupine, White tidy tip,Globe gilia, Coreopsis, Pin cushion, Buckwheat, Fiddlehead and of course the California poppy. We were lucky enough to see a pronghorn antelope, California golden eagle, burrowing owl and lots of cattle in this open space land! Thank you to Tejon Ranch Company and to Ellery for the tour
A total of 46 animals were treated today - 36 had surgery (20 cats and 16 dogs were spayed or neutered) and another 7 dogs and 3 cats came in mid-morning for vaccinations and microchips only. (All that made for a total of 14 kitty and 12 dog basic boosters, and 68 rabies vaccinations). I also need to say a big thank you to Cathy for the early morning roll out (she was already at it when April and I arrives at 6:30!) to get shelter animals out for potty and back in for breakfast before all those people and their pets started arriving. And the Winnespaygo team was just as wonderful as always, working as kind and gentle with the the large (and today some very unfriendly) animals as they do with the smallest and scared. We are so fortunate to have their support.
No Kill Initiative
For the past several years, Kern County has embarked on an endeavor to become a "No Kill" county at our animal shelter. This is the humane and responsible way to handle our pet overpopulation problem, and one that we have had success with due to the dedication of the public, local humane societies and organizations, free and reduced charge spay and neuter clinics, and, of course, our County Animal Services staff. I am pleased to report we have made much progress, as the table below indicates.
Just shy of 1,500 fewer animals have been euthanized from November 2017 to November 2018, the Kern County Animal Services Department (KCAS) reports. KCAS is finding live outcomes (adoptions or other humane transfers of animals) for just over 75% of all animals coming in to County shelters. This is a remarkable turn around in animal lives saved - in 2010 for instance, the county had to unfortunately euthanize 75% of all animals received at our shelters.
Zack Scrivner
Supervisor 2nd District
Many residents of the hill have experience bears in their yards, on their streets and even entering their homes in August. We asked Los Padres Bear Aware if we could use their checklist. We recommend looking at their Facebook page as well. If you are having trouble with bears please contact them. Thank you to Charlotte Deese for the photo of the mom bear and two cubs in her Pinon Pines yard.
Jade's Facebook Fundraiser
Jade Miranda's fabulous fundraiser via Facebook has sent SOTH two checks totaling $700! Thank you to the many people that donated.
Thank you again for doing this Shelter on rhe Hill fundraiser in support of the cats and dogs at the shelter. Jade and her mother also volunteer at the shelter. She is pictured here with the kittens.