Submitted by Robin Thompson and John Burnham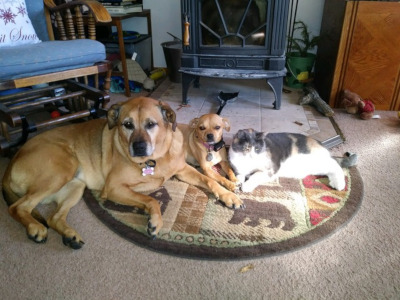 It was an unseasonably hot Saturday morning in September when the contractor for SOTH's Animal Care Center stopped by to check on a construction issue. The interior of the shelter was complete but there were still a number of outside issue that were waiting for county approval before an official opening. But at the front door our contractor found a dilapidated cardboard box, stained and stinky with feces, containing nine 5-week old puppies - and the call went out for help! Robin was there that afternoon and has been volunteering (along with husband John) one or more shifts every week since that fateful day. Here's Robin's recollection:
It all started around Sept/Oct. 2013 when John received a phone call from Candace wanting to know if I wanted to volunteer at SOTH. They just had nine puppies dropped off at the doorstep. John told Candace that I could volunteer, but that I couldn't bring any puppies home. At that time of year it was getting dark early, so I asked John to accompany me. John couldn't just sit there, so he started helping me. We have been volunteering ever since. Of course, I fell in love with the puppies and wanted one. John new he couldn't win this one, so we picked out #7, because of her floppy ears. Over Thanksgiving we brought her home for a trial to make sure she would get along with a cat that I already owned. We named her Koko. However, I wanted a lap dog. When we took her to the vet for her first checkup, we were told that she would be around 50 to 60l bs. I said "well, so much for a lap dog."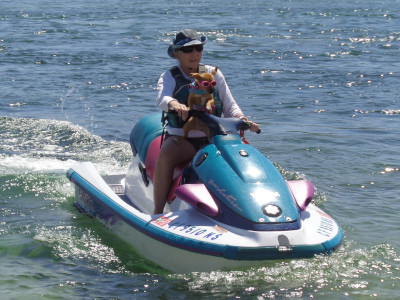 Then comes Tue. Now I work in the cattery at SOTH and this kitten came in that looked just like my cat at home that was a rescue, also. SOTH still wasn't open yet. I told John that Trudy needs a companion, because we are always going away. Needless to say, I talked John into having another cat. Since we brought her home on Tuesday, we decided on Tue.
After all this, I still wanted a lap dog. Sadie was at the shelter for 5 weeks before I could talk John into letting me bring her home. Every time we were at the shelter I would hold her and play with her. One day we were getting ready to leave and John said "you can bring her home for a trial only." Well, the rest is history.
Koko and Sadie are greatly involved in our lives. We take them everywhere from riding ATV and Side by sides to riding wave runners (jet skis). It seems that every where we take them, people are always stopping us to take pictures of them.
The rewards we have received from adopting our animals from the shelter are great, but we are also blessed with the volunteers we work with.
That being said, our family now consists of 2 dogs, 2 cats, 2 chickens and 2 tortoises.
Robin & John