| | |
| --- | --- |
| | Shelter on the Hill, A Humane Society |
Home
President's Message
October is Adopt a Shelter Dog Month
We hear all types of reasons why people don't want to come into an animal shelter: "It's too sad," "I feel bad for the animals there," or "The animals there have flaws." While some of the animals' backgrounds may be sad, their futures surely aren't.
At SOTH we do everything in our power to make our Animal Care Center a place where you will feel welcome and where animals are provided the very best possible care. Visit us and see hopeful faces along with wagging tails and contented purrs.
By adopting a shelter pet, you will have a profound sense of having done something good by providing a homeless animal with a loving home and the chance to be a part of a family for the rest of his or her life.
I came across this anonymous quote recently, and I think this says it all:
"Rescue dogs aren't broken, they've simply experienced more life than other dogs. If they were human, we would call them wise. They would be the ones with tales to tell and stories to write, the ones dealt a bad hand who responded with courage. Don't pity a rescue dog. Adopt one. And be proud to have their greatness by your side."
Find true love - ADOPT A SHELTER PET!
Candace Huskey
Motto
Shelter on the Hill continues to strive to meet the needs identified by residents nearly 20 years ago: to RESCUE companion animals from the dangers of the street, REUNITE lost pets with their loved ones, and REHOME adoptable animals to a new and loving family.
Mission Statement
Shelter on the Hill: A Humane Society, (SOTH), is a private, non-profit, donor supported, organization whose purpose is to operate a haven to rescue, reunite and re-home lost and abandoned companion animals in the Frazier Mountain area of California.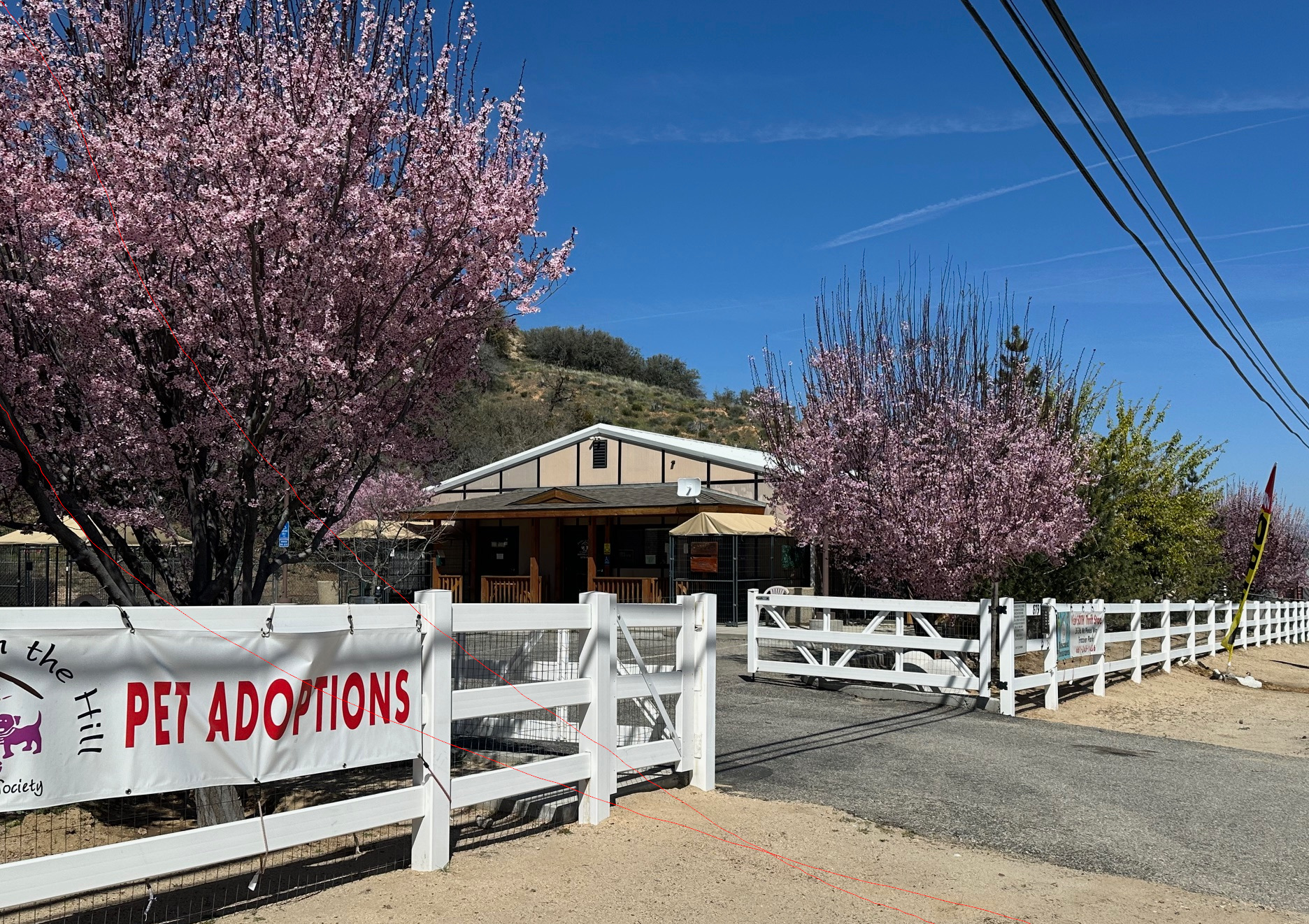 Dedicated to promoting humane treatment and quality of life, SOTH accepts all animals in need of care, provides appropriate medical and behavioral intervention, rehabilitation, socialization, and adoption efforts to save the lives of as many adoptable animals and remains committed to the welfare of these animals beyond the adoption process to the extent of its resources - and offers community support through a myriad of services including but not limited to, lost and found, sheltering, adoption, foster care, behavior and training, humane education, pet assistance for people in need, and inter-agency networking.
---
Dog of the Month
Mac has a heart of gold... he has it all... he is sweet, loving, gentle... he would truly be a most faithful friend and companion. He can go anywhere... the park, loves car rides, going to events and of course walks are always bunches of fun. Mac is a senior dog. His owner passed away. He is neutered and up to date on vaccinations.
Cat of the Month
Charlie is a BIG handsome, fluffy, BFF (best feline friend), "once in a lifetime", Mr. Personality type of cat. Someone's going to get really lucky to have this guy in their life, he's the whole package! Charlie is an A+ Family Cat, and that's saying a lot. They don't get better than Charlie. Oh, that every cat could have a little Charlie in their DNA (including my own). Two years old neutered male, vaccines and microchipped.
Last edited 24 October 2016 1045 CDT