| | |
| --- | --- |
| | Shelter on the Hill, A Humane Society |
Home
President's Message
What is heat stroke?
Heat stroke is a severe and sometimes fatal condition that results from the failure of the body to control or regulate its temperature.
What factors lead to and cause heat stroke in animals?
Excessive outside temperature and humidity
Lack of water intake
Exercise or over-exertion
Lack of acclimatization. (spring/early summer)
Previous episode of heat stroke
Medical conditions
Animals that are more prone to heat stroke:
Short nosed breeds (English bulldogs, Boston terriers, Pekingese, Persian cats
Pets with respiratory disease, upper airway obstruction
Obese animals
Preventing heat stroke
During the hot summer months it is best to keep your pet inside with air conditioning or a fan
If outside, make sure your pet has access to plenty of water and shade
Limit your pet's exercise and only let them exercise in the cooler part of the day
Never leave your pet unattended inside a car, not even for a minute

On an 85 degree day the temperature in your car can climb to 102 in less than 10 minutes, even with the windows cracked. After a half hour, the temperature can climb to 120 degrees.
What to do if your pet is suffering from heat stroke?
Immediately transport him or her to the nearest veterinary hospital
Turn the air conditioner on in the car to help cool them while in transit
Do not attemp to cool the pet yourself, if not done properly you could cause more complications
Candace Huskey
Motto
Shelter on the Hill continues to strive to meet the needs identified by residents nearly 20 years ago: to RESCUE companion animals from the dangers of the street, REUNITE lost pets with their loved ones, and REHOME adoptable animals to a new and loving family.
Mission Statement
Shelter on the Hill: A Humane Society, (SOTH), is a private, non-profit, donor supported, organization whose purpose is to operate a haven to rescue, reunite and re-home lost and abandoned companion animals in the Frazier Mountain area of California.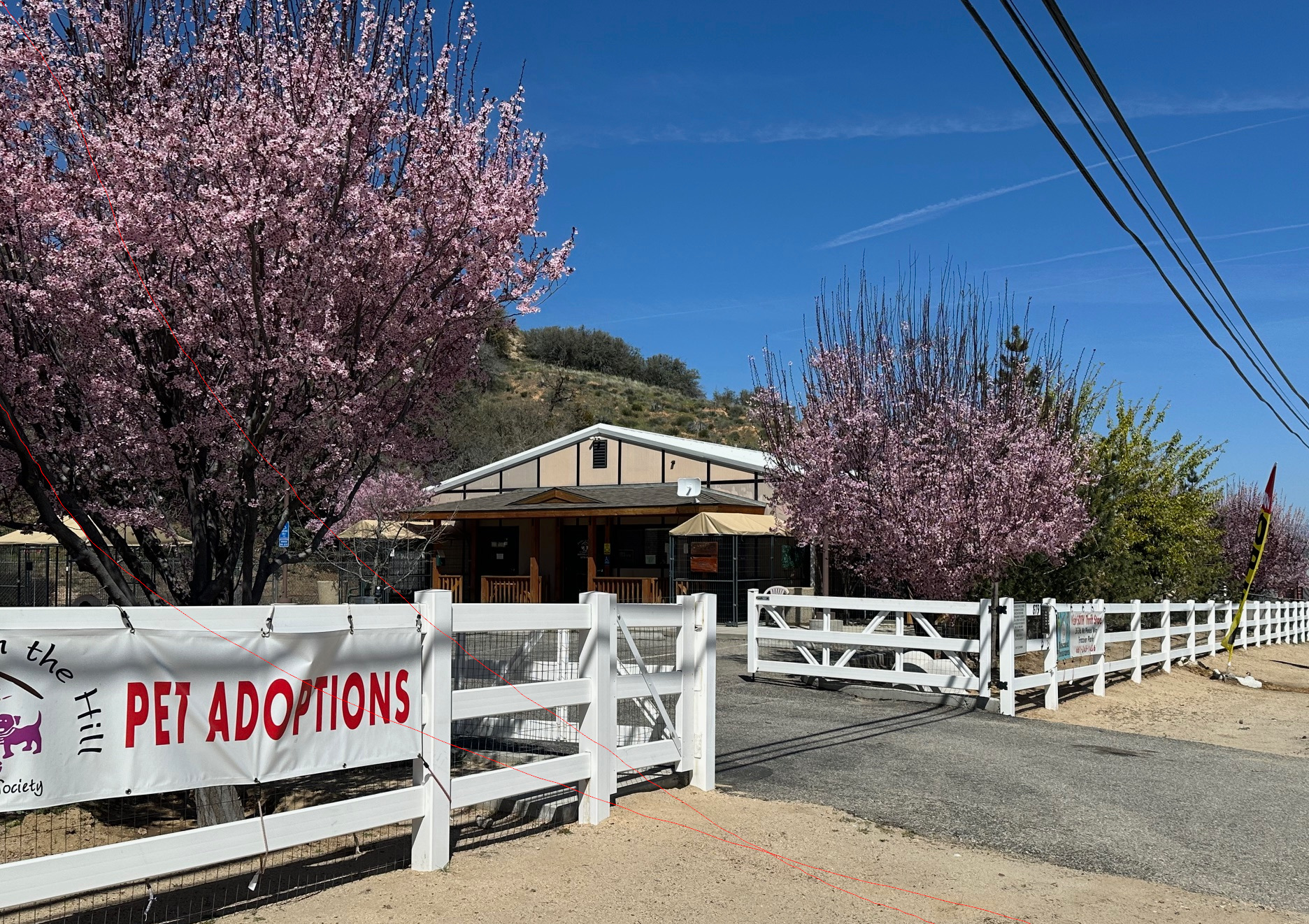 Dedicated to promoting humane treatment and quality of life, SOTH accepts all animals in need of care, provides appropriate medical and behavioral intervention, rehabilitation, socialization, and adoption efforts to save the lives of as many adoptable animals and remains committed to the welfare of these animals beyond the adoption process to the extent of its resources - and offers community support through a myriad of services including but not limited to, lost and found, sheltering, adoption, foster care, behavior and training, humane education, pet assistance for people in need, and inter-agency networking.
---
Dog of the Month
Ajax is available for adoption. He is a gorgeous long legged older puppy that's built for action! He is a Great Pyrenees, Anatolian Shepherd and Suluki mix. That means he was bred to hike for miles in the Pyrenees mountains or the mountains and river valleys of Turkey while working! So, if you have a super active lifestyle or family this guy is the one for you. Ajax loves to play in the water too, jumping in the ocean is his favorite. This boy is neutered, immunized and microchipped. He's almost a year old and may fill out a bit more over the next year. Super fun and friendly dog.
Cat of the Month
Russian blue Sheeba is an elegant kitty. She has beautiful soft short blue grey fur, has been spayed and would love to be adopted. She is 3 years old, young adult. Sheeba would love to meet you, come to the cattery and be sure to ask for her!
Last edited 28 August 2016 1715 PDT