Words - And What They Mean
Shelter on the Hill was the first animal care organization to serve the pets and residents of the the Greater Frazier Mountain area. SOTH operates the only animal shelter within 50 miles. As a private, not-for-profit 501(c)(3) organization, we receive nearly all of our funding through private donors, the people and businesses of our community and beyond. We work to reunite people with their lost animal companions, and place those animals that have gone unclaimed into new homes through our adoption program. Our low- and no-cost spay/neuter programs address the overpopulation problems that our community faces. Partnered with our community, we work for change in the lives of our companion animals and to end the suffering of all animals.
We are often asked about the "humane society" in our name. Many animal rescue organizations have "Humane Society" or "SPCA" (Society for the Prevention of Cruelty to Animals) in their names. These are descriptive words, much like the word "bank" in US Bank or Bank of America. Organizations with those terms in their names are not affiliated with, nor are they a "branch" of the Humane Society of the United States (HSUS) or the American Society for the Prevention of Cruelty to Animals (ASPCA).
The HSUS is located in Gaithersburg, MD and Washington, D.C. It does not operate any animal shelter facilities of any kind. Its mission is primarily education, awareness, and political action on a national level. It does provide support to individual organizations through grants, training and educational opportunities, and evaluation services. The HSUS is a nonprofit organization, but they do not supply any kind of financial support to any local humane society, including the Shelter on the Hill.
The ASPCA (the American SPCA) is located in New York City. It operates a shelter there and a clinic which serves that city, and has developed standards of care and training and educational efforts across the United States. The ASPCA also provides funds to certain selected animal welfare organizations as part of specific programs such as their Community Partners Program.
Words, Words, & More Words: What is a "No-Kill Ethic"?
When the term was first introduced, "no-kill" meant a place which never euthanized animals. In fact the more correct term for that philosophy would be sanctuary. However most people recognize that there can be compelling reasons for euthanasia. Today a "no-kill" shelter is an animal shelter that does not euthanize animals when the shelter is full and more space is needed. Today a "no-kill" shelter reserves euthanasia for animals who are terminally ill or considered too dangerous to be adoptable. The SOTH Animal Care Center meets this definition of "no-kill," However SOTH does not describe itself as "no-kill" because doing so would give a false message to our public. Animals are not euthanized for reasons of space. There are no time limits for animals at our shelter. Animals remain available for adoption as long as they remain physically and mentally healthy, and of sound temperament and SOTH will always strive to give every animal in our care the best possible outcome
Board of Directors Shelter on the Hill is not owned by any one individual. It is a non-profit business governed by a Board of Directors, each of whom brings a deep commitment to the animals and people of our community. To contact our Board of Directors, please email info@shelteronthehill.org
Candace Huskey, President
Bob Stowell, Vice President
Karyn Newbern, Secretary
Nathan Keith, Treasurer
Phil Slater, Director
Robina Adams, Director
Shelter on the Hill continues to strive to meet the needs identified by residents nearly 20 years ago: to RESCUE companion animals from the dangers of the street, REUNITE lost pets with their loved ones, and REHOME adoptable animals to a new and loving family.
Shelter on the Hill: A Humane Society, (SOTH), is a private, non-profit, donor supported, organization whose purpose is to operate a haven to rescue, reunite and re-home lost and abandoned companion animals in the Frazier Mountain area of California.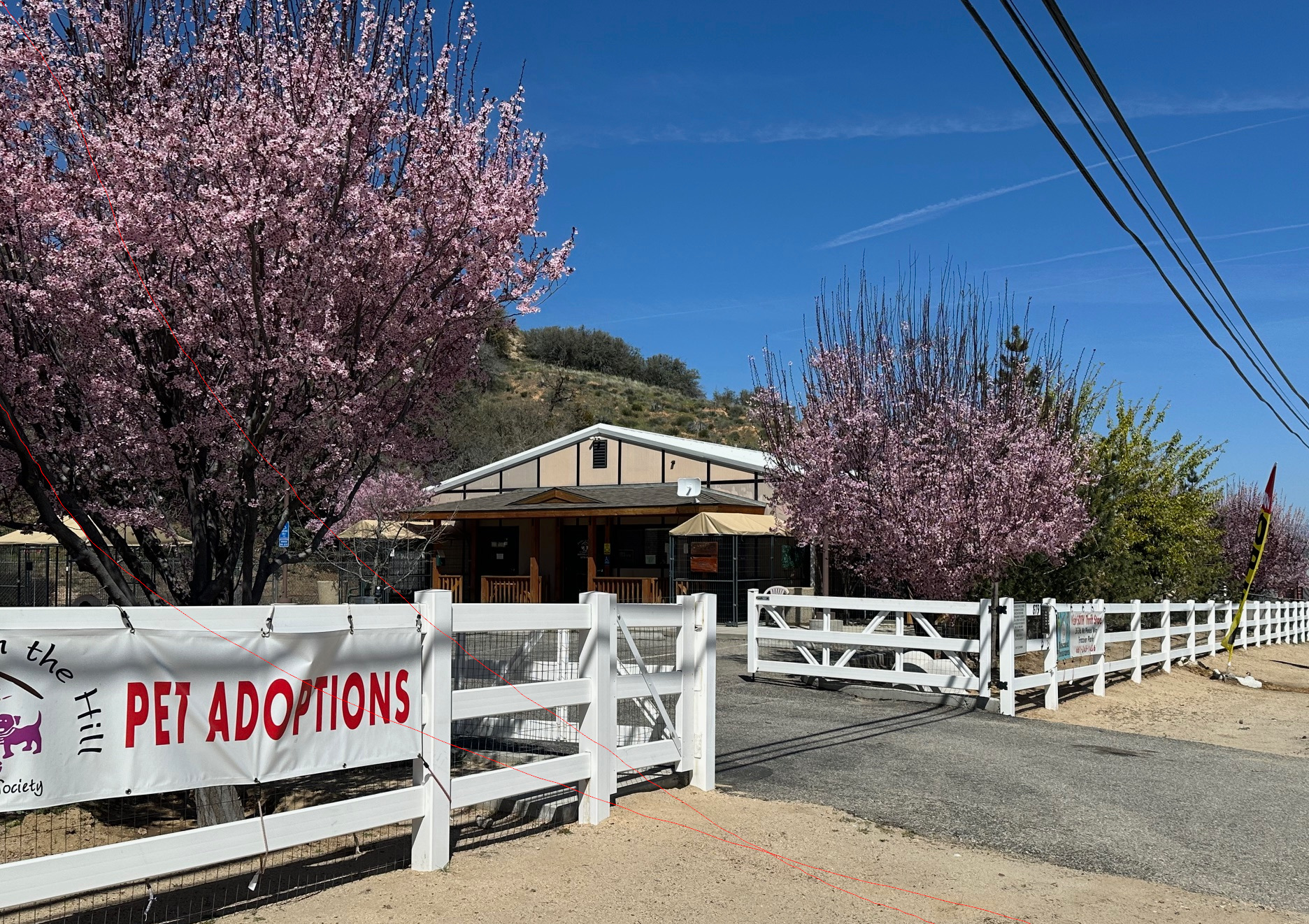 Dedicated to promoting humane treatment and quality of life, SOTH accepts all animals in need of care, provides appropriate medical and behavioral intervention, rehabilitation, socialization, and adoption efforts to save the lives of as many adoptable animals and remains committed to the welfare of these animals beyond the adoption process to the extent of its resources - and offers community support through a myriad of services including but not limited to, lost and found, sheltering, adoption, foster care, behavior and training, humane education, pet assistance for people in need, and inter-agency networking.
Cat of the Month
Hunter is ready to purr at a moment's notice this one year old male kitty is ready for adoption! Fun, fun, fun is what this darling is all about. Eat, play, purr, sleep, repeat!