| | |
| --- | --- |
| | Shelter on the Hill, A Humane Society |
Home
President's Message
Why I believe "Outdoor Dogs" Are Miserable
What compels people get a dog only to keep it isolated outside, away from the family? I have often wondered this as I walk my dogs down streets lined with fences behind which a lonely outdoor dog barks as we go by.
I may not know what he looks like behind that fence but I know what the lives of these dogs are too often like. They are animals born to be part of a social structure, a pack or a family, yet this is denied them. They spend their lives on the outside, looking in. My heart still hurts when I remember how profoundly desperate the one I adopted was to be with us, to belong inside, to be together with us.
And so I have always had difficulty understanding why people want to keep dogs outside. If keeping a beautiful house and yard are of the utmost importance to you, then don't get a dog. If you know someone in your family can't abide a dog in the house, for whatever reason, then don't get a dog. If you can't let a dog be part of your family, then don't get a dog.
You don't get the benefits of companionship from a dog you see so little. You don't even get much in the way of protection from the pet who has no access to the house. And don't count on outdoor dogs as an early warning system. These animals often become such indiscriminate barkers that you couldn't tell from their sound whether the dogs are barking at a prowler or at a toddler riding a tricycle down the street. Besides, people who keep outdoor dogs seem to become quite good at ignoring the noise they make, as any angry neighbor can vouch.
Bored and lonely, these animals develop any number of bad habits. They dig craters in the yard. They bark endlessly day and night. They become chewers of outdoor furniture, sprinkler heads and siding. And sometimes, without the socialization all dogs need, they become aggressive, ready to bite anyone who comes into their territory.
If you're considering getting a puppy or dog with the intent of keeping him exclusively outside, please reconsider -- for the animal's sake as well as your own and your neighbors'. For those who love pets, a pristine home is nothing compared to the pleasures of living with an animal who's really bonded to you.
When you have a dog you can welcome into your home and your heart, you'll reap the benefits of a relationship that's finally being realized to its fullest potential. And that's good news for you both.
Candace Huskey
Motto
Shelter on the Hill continues to strive to meet the needs identified by residents nearly 20 years ago: to RESCUE companion animals from the dangers of the street, REUNITE lost pets with their loved ones, and REHOME adoptable animals to a new and loving family.
Mission Statement
Shelter on the Hill: A Humane Society, (SOTH), is a private, non-profit, donor supported, organization whose purpose is to operate a haven to rescue, reunite and re-home lost and abandoned companion animals in the Frazier Mountain area of California.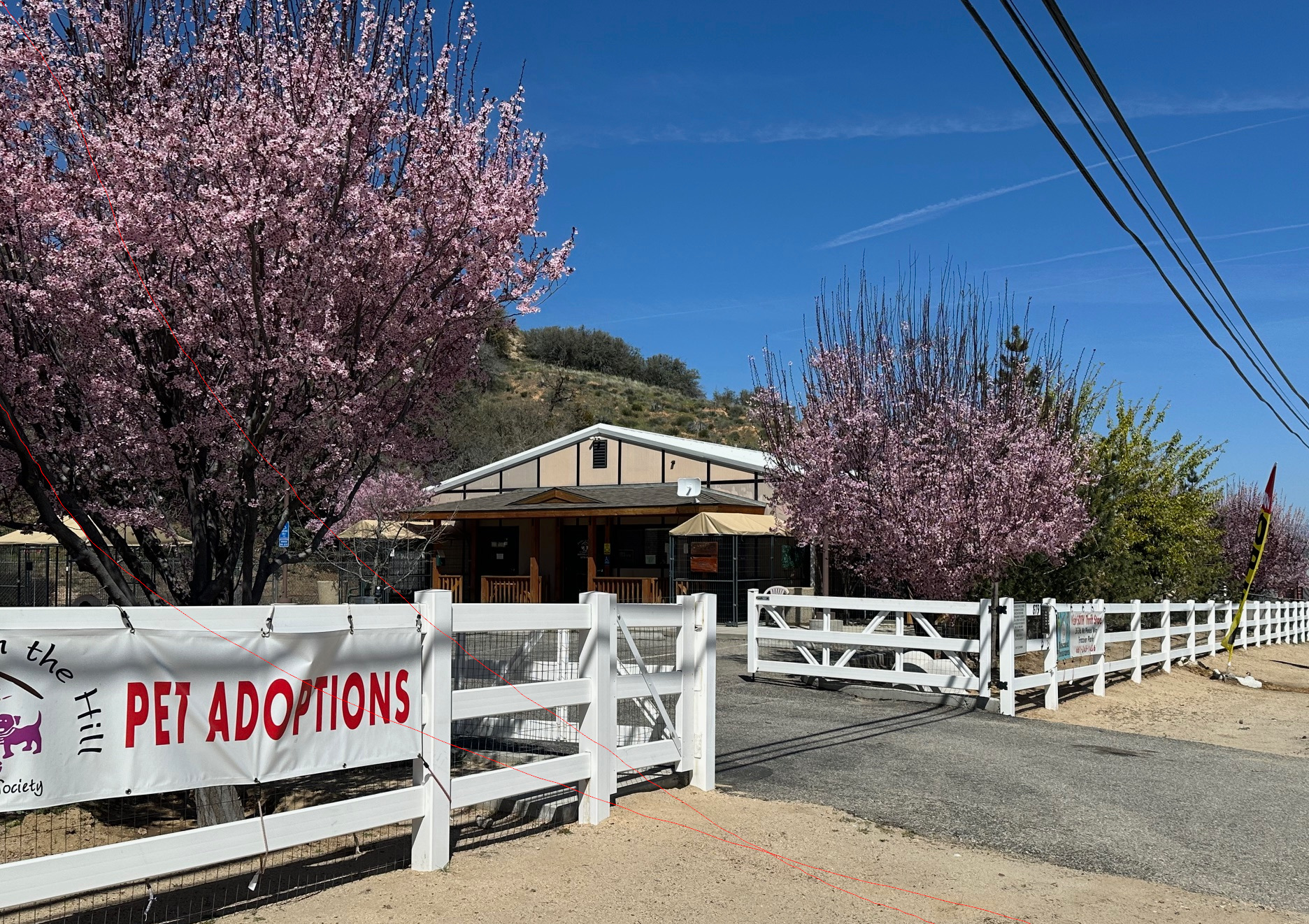 Dedicated to promoting humane treatment and quality of life, SOTH accepts all animals in need of care, provides appropriate medical and behavioral intervention, rehabilitation, socialization, and adoption efforts to save the lives of as many adoptable animals and remains committed to the welfare of these animals beyond the adoption process to the extent of its resources - and offers community support through a myriad of services including but not limited to, lost and found, sheltering, adoption, foster care, behavior and training, humane education, pet assistance for people in need, and inter-agency networking.
---
Dog of the Month
This little puppy girl is just the perfect little imp!!! So adorable, so friendly, so smart!!! With the right pet parents she could be an exceptional true lovey kind of canine BFF, she's got what it takes!!! Please come meet Fifi and find out if you're the lucky human that will get to be her family and love her forever! She's got the cutest tri-color coat pattern, ears made for listening! Mini Dachshund mix spayed female, 7 months old, vaccinated and microchipped.
Cat of the Month
Kitty boy White Foot is a very affectionate and friendly adult kitty. He has beautiful black and white markings. He is ready for adoption and would enrich any home with his presence.
Last edited 17 January 2017 1200 CST