| | |
| --- | --- |
| | Shelter on the Hill, A Humane Society |
Visit the Thrift Store Facebook
page for this week's featured items!
Home
Help Enclose Loose Pets fence and turf fundraiser has been terrifically supported and we are grateful for all the donations made so far. We have an update from Pamela McGee who tells us that between Indiegogo and contributions made directly to Shelter on the Hill we have raised over half of what we need. The fencing in the front and sides has begun. We are fencing over 2 acres which is necessary for the safety of our pups. We have yet to raise the money for the chain link on the back mountainous boundary as well as the artificial turf for the exercise area. Funds needed to complete the project are $6000. We are very grateful for the help we have received which has made this all possible. If you would like to make a donation please mail to Shelter on the Hill, PO Box 275, Frazier Park Ca 93225
Here is a YouTube video filmed by GBU Mountain News which Pam and Alice share the HELP progress.
Motto
Shelter on the Hill continues to strive to meet the needs identified by residents nearly 20 years ago: to RESCUE companion animals from the dangers of the street, REUNITE lost pets with their loved ones, and REHOME adoptable animals to a new and loving family.
Mission Statement
Shelter on the Hill: A Humane Society, (SOTH), is a private, non-profit, donor supported, organization whose purpose is to operate a haven to rescue, reunite and re-home lost and abandoned companion animals in the Frazier Mountain area of California.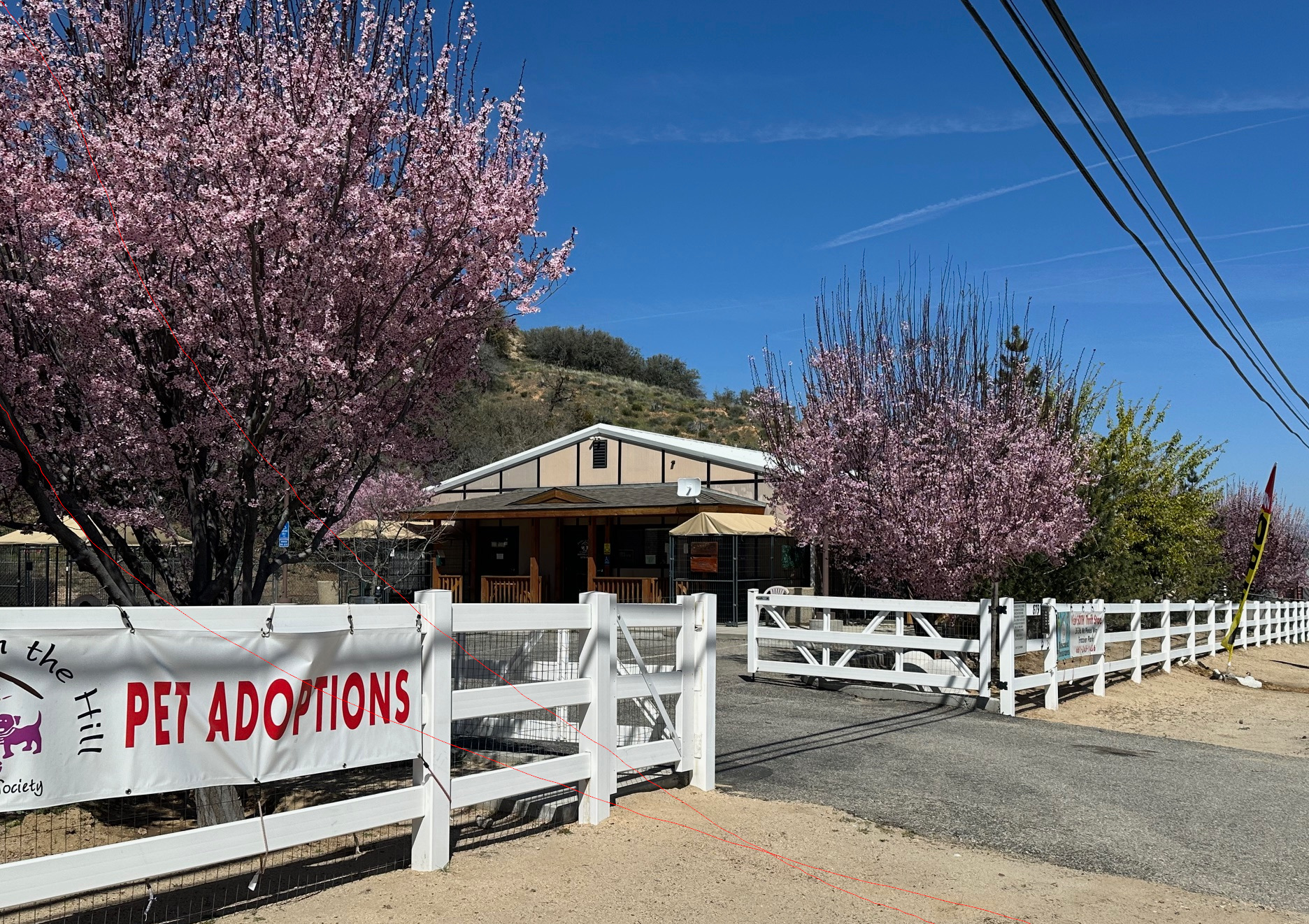 Dedicated to promoting humane treatment and quality of life, SOTH accepts all animals in need of care, provides appropriate medical and behavioral intervention, rehabilitation, socialization, and adoption efforts to save the lives of as many adoptable animals and remains committed to the welfare of these animals beyond the adoption process to the extent of its resources - and offers community support through a myriad of services including but not limited to, lost and found, sheltering, adoption, foster care, behavior and training, humane education, pet assistance for people in need, and inter-agency networking.
---
Cat of the Month
Gabriella is a female calico/tabby one-year-old cat with orange, brown and white fur. She is spayed, playful, friendly and beautiful. She is a medium sized kitty. She was found as a stray cat in Frazier Park. Come visit her at the shelter.
Dog of the Month
A delightful basset x beagle neutered male about four years old. Loves to go for walks and sniff the area. Lucky Jack has a great smile and is a handsome guy. He plays well with the other shelter dogs. He was an outside dog previously.
Last edited 26 April 2015 2105 PDT