| | |
| --- | --- |
| | Shelter on the Hill, A Humane Society |
Visit the Thrift Store Facebook
page for this week's featured items!
Home
On the last Tuesday of February, World Spay Day shines a spotlight on the lifesaving power of spay/neuter and the need for affordable services.
Nearly 3 million healthy and treatable cats and dogs are put down in U.S. shelters each year. That's one every 12 seconds. These are sweet pets who would have made great companions.
Spay/neuter is an effective and humane way to save animals' lives. Spaying (for females) and neutering (for males) are common surgeries veterinarians perform to stop animals from having accidental, surplus litters. Preventing litters reduces the number of animals for whom resources are not available.
In recognition of the need for low-cost spay neuter services for the communities we serve, SOTH will make 100 vouchers available for 100 spay/neuter surgeries of dogs and cats. Vouchers will be available to residents of the mountain communities only (zip codes 93222, 93225, 93243) on a first come, first served basis. Vouchers can be used at at any veterinarian who will submit proof of surgery along with the voucher when requesting payment. Applicants must be able to provide proof of residence (utility bills) and proof of financial need (pay stub, Medi-Cal, SSI or A, or equivalent income). SOTH and the Animal Resource Center will also be working together to provide needed vaccinations and transportation of animals to spay/neuter clinics in either Bakersfield or Simi on a limited basis.
In the summer months our shelter, as well as shelters across the country, becomes inundated with unwanted or abandoned litters of kittens and puppies that create enormous strains on shelter resources. Through spay-neuter programs, these litters can be prevented, and the animals will lead healthier lives.
SOTH and ARC are extremely grateful for all the support from all the people who have supported this special effort. For more information on how you and your pets can participate in this limited program please call 661-245-3398. Please join with us to save and improve the lives of animals.
Support us in our next
H.E.L.P. Fundraiser
Help Enclose Loose Pups
Check out Indiegogo
http://igg.me/at/shelteronthehill
Hello, welcome and thank you for checking out our campaign. My name is Pamela and I have the joy and pleasure of working with a wonderful group of volunteers at Shelter on the Hill. We are a small community of 7500, located about 30 miles north of Los Angeles. One of my jobs is fundraising. So, here we go.
Shelter on the Hill, A Humane Society is a private Non-profit 501(c)(3) Organization that is dedicated to providing shelter, medical care, behavioral care, rehabilitation, socialization, adoption services, foster care, follow up in-home inspections and inter-agency networking for lost and abandoned animals.
After 20 years of fundraising the facility was built and opened in 2014. Current fundraising consists of the Shelter on the Hill Thrift Store, donation boxes throughout the community, and the Annual Wine and Cheese Event. Our caring and loving community is what has made our goals achievable. Volunteers provide Thrift Store retail duties as well as receiving, fixing, organizing, and displaying merchandise. At the shelter, volunteers feed, walk, groom, train, socialize, clean kennels, provide health care, give loving affection, provide home inspections and adoption services.
Since the opening, in less than 12 months were were able to return over two dozen pets to grateful owners and find new loving homes for more than a 100 more who were never claimed.
Currently, the Shelter is in need of perimeter security fencing of approximately 1000 running feet. We are on a busy frontage road just off I-5. Our 2.4 acre perimeter has a three rail fence which does not restrict animals from running if they get loose. Our fundraiser is designed to provide pet safe no-climb and chain link fence as well as artificial turf for the socialization and activity area, at approximately 700 square feet. This fundraiser is designated to provide the needed fencing and turf. If fundraising exceeds our goal of $24,000.00, additional funds will be used for much needed medical equipment and treatments.
OTHER WAYS TO HELP: E-mail our page to friends and family members, post this on your social media, or talk about it over a cup of coffee.
Check out this video on YouTube: http://youtu.be/n50hAaMCs-o
Shelter on the Hill Mailing address:
P.O. Box 275
Frazier Park, CA 93225
Motto
Shelter on the Hill continues to strive to meet the needs identified by residents nearly 20 years ago: to RESCUE companion animals from the dangers of the street, REUNITE lost pets with their loved ones, and REHOME adoptable animals to a new and loving family.
Mission Statement
Shelter on the Hill: A Humane Society, (SOTH), is a private, non-profit, donor supported, organization whose purpose is to operate a haven to rescue, reunite and re-home lost and abandoned companion animals in the Frazier Mountain area of California.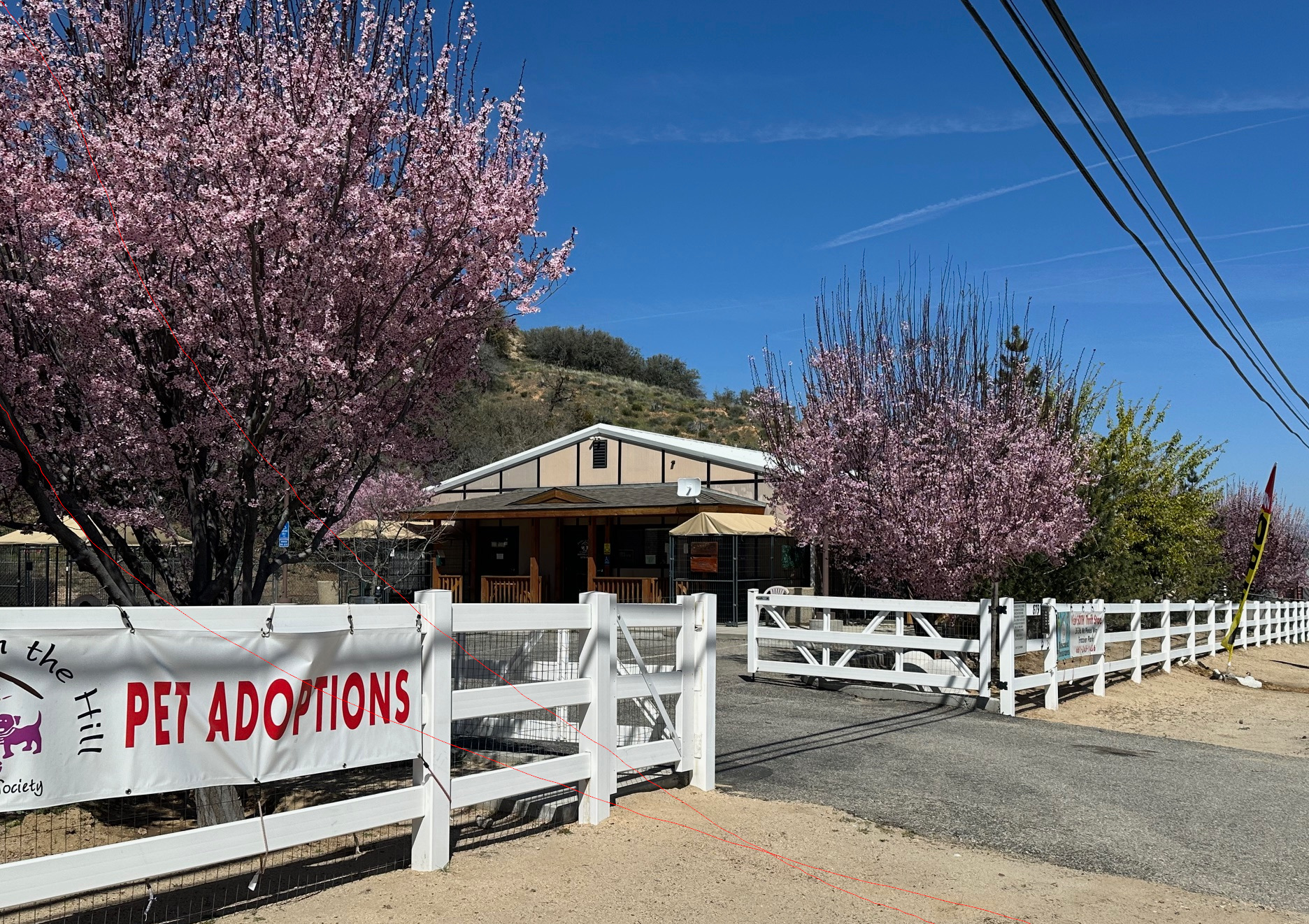 Dedicated to promoting humane treatment and quality of life, SOTH accepts all animals in need of care, provides appropriate medical and behavioral intervention, rehabilitation, socialization, and adoption efforts to save the lives of as many adoptable animals and remains committed to the welfare of these animals beyond the adoption process to the extent of its resources - and offers community support through a myriad of services including but not limited to, lost and found, sheltering, adoption, foster care, behavior and training, humane education, pet assistance for people in need, and inter-agency networking.
---
Cat of the Month
Gabriella is the new kitty at the shelter. She is ever so sweet, brown-grey tabby. She is approx 1 year old. She was found as a stray cat in Frazier Park.
Dog of the Month
Sunny is one of five pups that are a mix Chinese Shar Pei and American Staffordshire Terrier. She is a female, soft velvety, spayed four month old puppy. She also has two brothers Star and Storm which are available. This litter of pups comes with extra owner/pup training for their socialization and breed characteristics. Sunny matches her name, a very happy girl.
Last edited 23 March 2015 0910 PST