| | |
| --- | --- |
| | Shelter on the Hill, A Humane Society |
Visit the Thrift Store Facebook
page for this week's featured items!
Home
Beauty
Beauty is a 1½ year old Labrador retriever/Border Collie/American Staffordshire Terrier mix. Beauty has a sweet nature and very much wants to please. She loves water- swimming, kissing, running. She knows how to sit and walk on a leash. She rides well in a car. She gets along with other dogs too, but the Shelter environment is not for her - she really needs to be in a loving home. Our trainer is willing to help the new owners transition her in. No cats or small children please.
Volunteer Tami Kearney says "Beauty just needs someone to show her what life's all about!"
Volunteer Cathy Vlach says "Beauty is always so happy and cheerful and she is so appreciative of any attention she gets and gives me so much love when I see her. She is so easy to care for because she is a very clean dog. I have never come in and ever had to clean anything up. She's the cleanest dog I have seen there. She is so easy and wonderful. I really do just love that girl to pieces."
Motto
Shelter on the Hill continues to strive to meet the needs identified by residents nearly 20 years ago: to RESCUE companion animals from the dangers of the street, REUNITE lost pets with their loved ones, and REHOME adoptable animals to a new and loving family.
Mission Statement
Shelter on the Hill: A Humane Society, (SOTH), is a private, non-profit, donor supported, organization whose purpose is to operate a haven to rescue, reunite and re-home lost and abandoned companion animals in the Frazier Mountain area of California.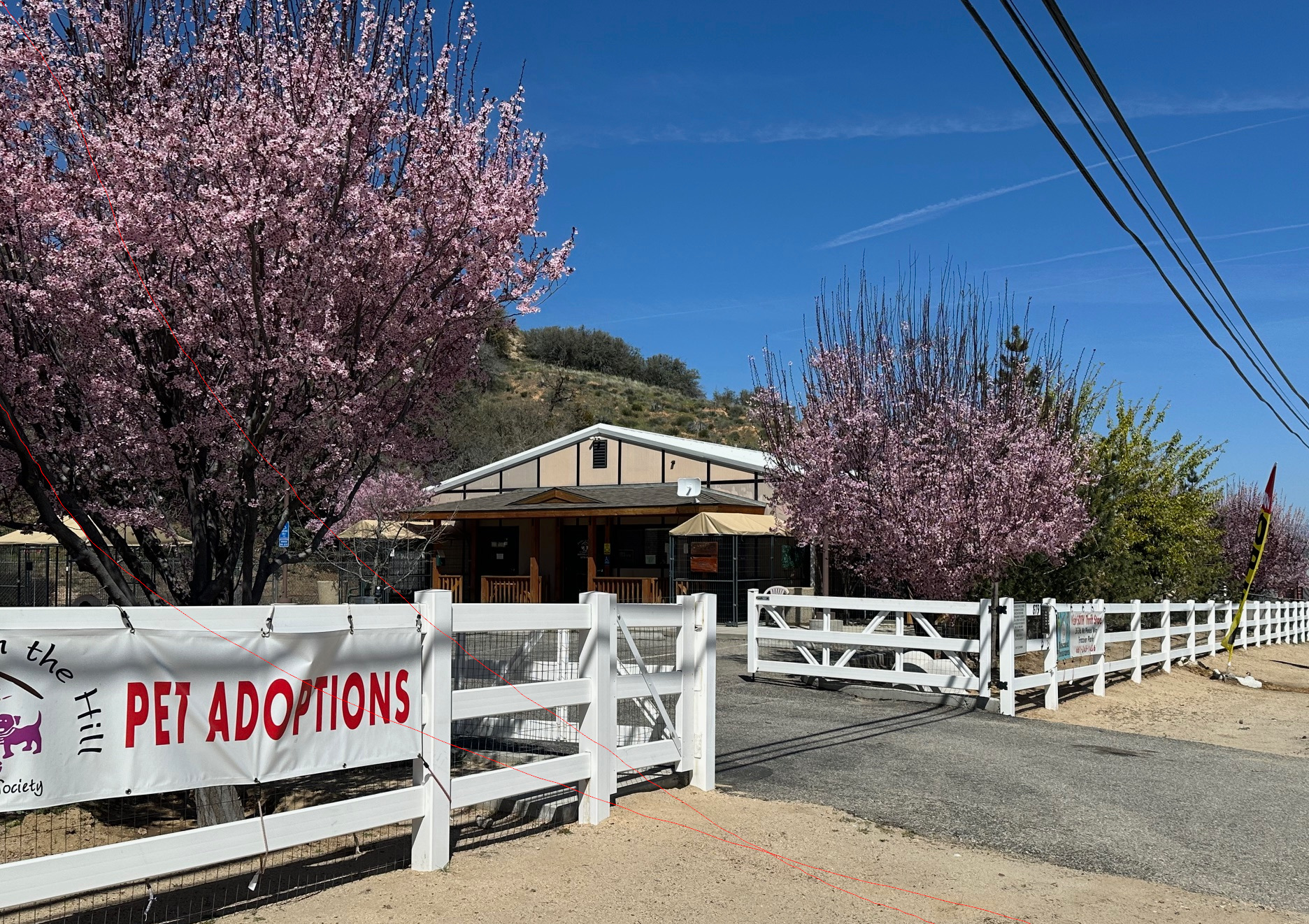 Dedicated to promoting humane treatment and quality of life, SOTH accepts all animals in need of care, provides appropriate medical and behavioral intervention, rehabilitation, socialization, and adoption efforts to save the lives of as many adoptable animals and remains committed to the welfare of these animals beyond the adoption process to the extent of its resources - and offers community support through a myriad of services including but not limited to, lost and found, sheltering, adoption, foster care, behavior and training, humane education, pet assistance for people in need, and inter-agency networking.
---
Dog of the Month
Zorro loves to run and play in the exercise yard. He has a tricolor mask, male neutered terrier mix who is about 3 years old. His owner passed away and he is seeking a new forever home with lots of love.
Cat of the Month
Exquisitely beautiful Cougar is approximately three years old. She is a spayed domestic shorthair Russian Blue mix. Cougar is predominately gray with a little bit of white on her chest. She is very friendly to people. She likes attention and to be petted. She does not want to play with the kittens in the cattery and so would probably prefer a home where she is the only cat. Please come meet her on a Thursday, Friday or the first Saturday of the month. We are also open by appointment on the other days.
Last edited 7 October 2015 1200 PDT