| | |
| --- | --- |
| | Shelter on the Hill, A Humane Society |
Visit the Thrift Store Facebook
page for this week's featured items!
Home
President's Message
SUMMER AT LAST - TIME TO GO CAMPING, AND HIKING, AND LOSING YOUR DOG?
Being in the great outdoors in the summer is an experience that many people enjoy - and many of us like to enjoy it with our furry friends. But the great outdoors has so many temptations for our furry friend which can lead him astray. As in far, far, away astray.
What should you do? First wait. Give Rover time to realize he's probably not going to catch whatever he was chasing after all. Then give him some more time to realize he's all alone in a strange place. That's when he'll start trying to retrace his trail back to the place where he last saw you.
If you have to leave the area and your companion still hasn't returned leave some of your clothing. Take an article of clothing that has been worn at least all day, the longer the better, so the lost dog can pick up the scent. Leave it at the location where the dog was last seen.
If you have a container for water, leave it there also. Do not leave food. That may attract your dog but it will also attract animals that may harm your dog. Next, if you don't have a map of the area go the nearest ranger station and get one. Plot exactly where you were when you last saw the dog. Go back and leave some clothing if you haven't done that already, If the dog has a a special blanket with his scent and/or a familiar toy take that also. Leave a large bowl of water there too, as the dog probably hasn't had access to any. Do not bring food as this could attract other animals that the dog might avoid. You might also want to leave a note requesting item(s) not to be moved and why and include your contact information.
Come back the next day, or check intermittently if possible. Hopefully the dog will be waiting there. If not, walk about calling his name and use words or phrases he might recognize like "cookie" or "dinner time". If your car or truck was close to the area the dog went missing blow the horn. The dog may be exhausted and scared, hiding under a bush nearby. Scan the area in all directions looking for movement as you call and honk.
To expand your search area, use your map and be systematic in your approach. Plot search circles at 25, 50, 100 150, 200 yards out and leave articles of clothing or pieces of a nice and smelly blanket at each distance: this makes a sight trail for you and a scent trail for your dog. Don't give up - check the location at least daily, more often if you can. If the dog has been missing more than a day or two, he will be scared and may not recognize you at first and run. Be careful - if you spot him, use your voice to call. Get down and call him in baby voices like when he was a puppy. And when he finally rushes into your arms give him lots of hugs and kisses, just like he's giving you.
Candace Huskey-Brown
President
Shelter on the Hill, a Humane Society
Motto
Shelter on the Hill continues to strive to meet the needs identified by residents nearly 20 years ago: to RESCUE companion animals from the dangers of the street, REUNITE lost pets with their loved ones, and REHOME adoptable animals to a new and loving family.
Mission Statement
Shelter on the Hill: A Humane Society, (SOTH), is a private, non-profit, donor supported, organization whose purpose is to operate a haven to rescue, reunite and re-home lost and abandoned companion animals in the Frazier Mountain area of California.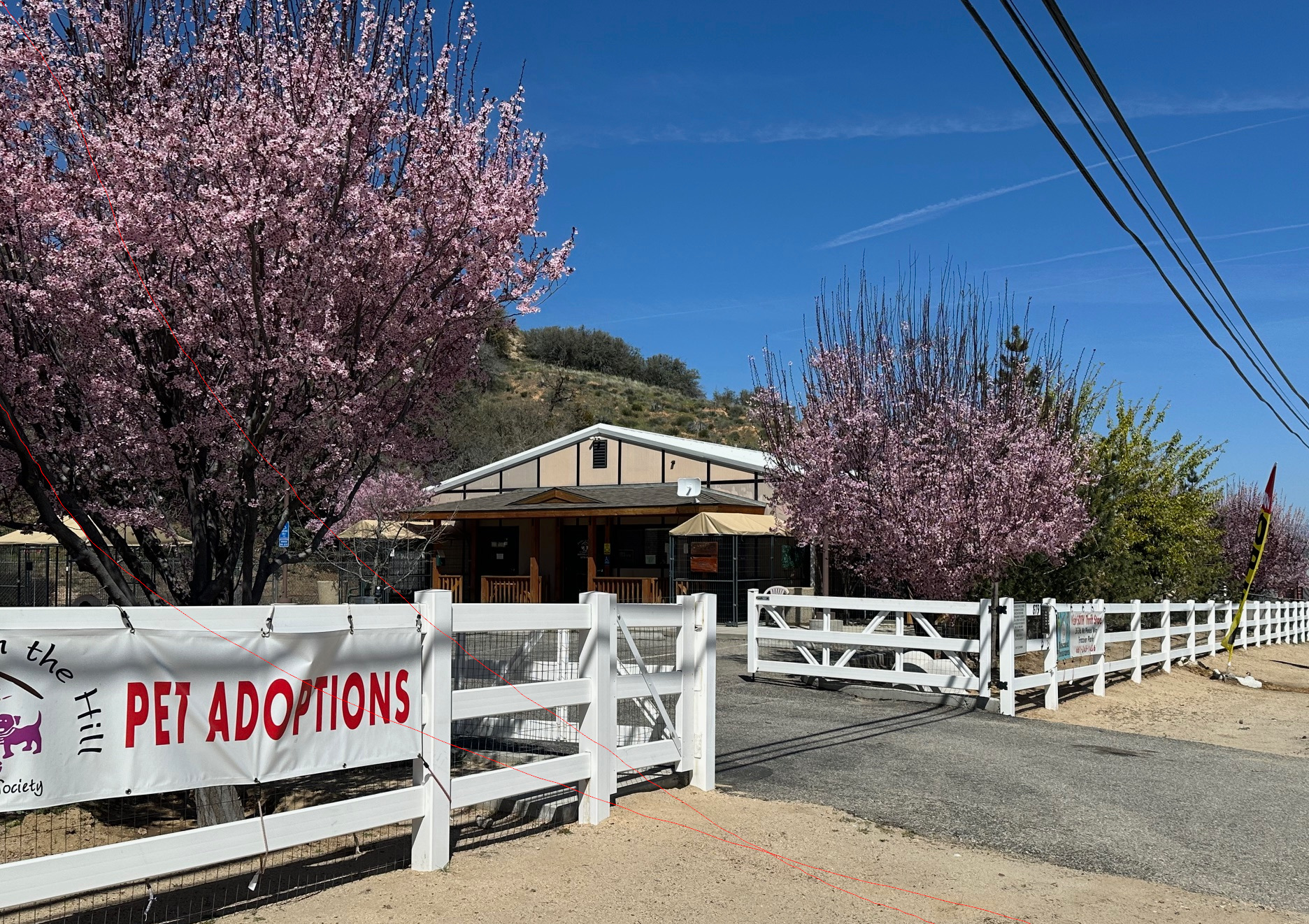 Dedicated to promoting humane treatment and quality of life, SOTH accepts all animals in need of care, provides appropriate medical and behavioral intervention, rehabilitation, socialization, and adoption efforts to save the lives of as many adoptable animals and remains committed to the welfare of these animals beyond the adoption process to the extent of its resources - and offers community support through a myriad of services including but not limited to, lost and found, sheltering, adoption, foster care, behavior and training, humane education, pet assistance for people in need, and inter-agency networking.
---
Cat of the Month
Patches is a small 3 month old domestic shorthair black and white kitten. He is neutered. He gets along with the other cats and friendly dogs. Mr Personality as you can see from his photo.
Dog of the Month
Beauty has a sweet nature and very much wants to please. She loves to playing, swimming, kissing, running. She knows how to sit and walk on a leash. She can be timid, but love and encouragement will continue to build her confidence. If you are patient with her to gain her trust she will be a grateful and loyal dog.
Last edited 21 July 2015 0810 PDT