| | |
| --- | --- |
| | Shelter on the Hill, A Humane Society |
Visit the Thrift Store Facebook
page for this week's featured items!
Home
Holiday Adoption Update
More families bring home a new pet during the holiday season than at any other time of the year. And at this time each year it's our goal to get every animal possible adopted into a warm and loving home.
In September we estimated that during the Home For The Holidiays event Shelter on the Hill could rehome 15 dogs, 10 puppies, 9 cats and 9 kittens. I am so pleased to announce what we actually achieved: 31 dogs, 10 puppies, 6 cats, and 7 kittens, a total of 54 animals!
Many thanks to all the devoted volunteers and loving adopters who opened their hearts and homes to make it happen.
Motto
Shelter on the Hill continues to strive to meet the needs identified by residents nearly 20 years ago: to RESCUE companion animals from the dangers of the street, REUNITE lost pets with their loved ones, and REHOME adoptable animals to a new and loving family.
Mission Statement
Shelter on the Hill: A Humane Society, (SOTH), is a private, non-profit, donor supported, organization whose purpose is to operate a haven to rescue, reunite and re-home lost and abandoned companion animals in the Frazier Mountain area of California.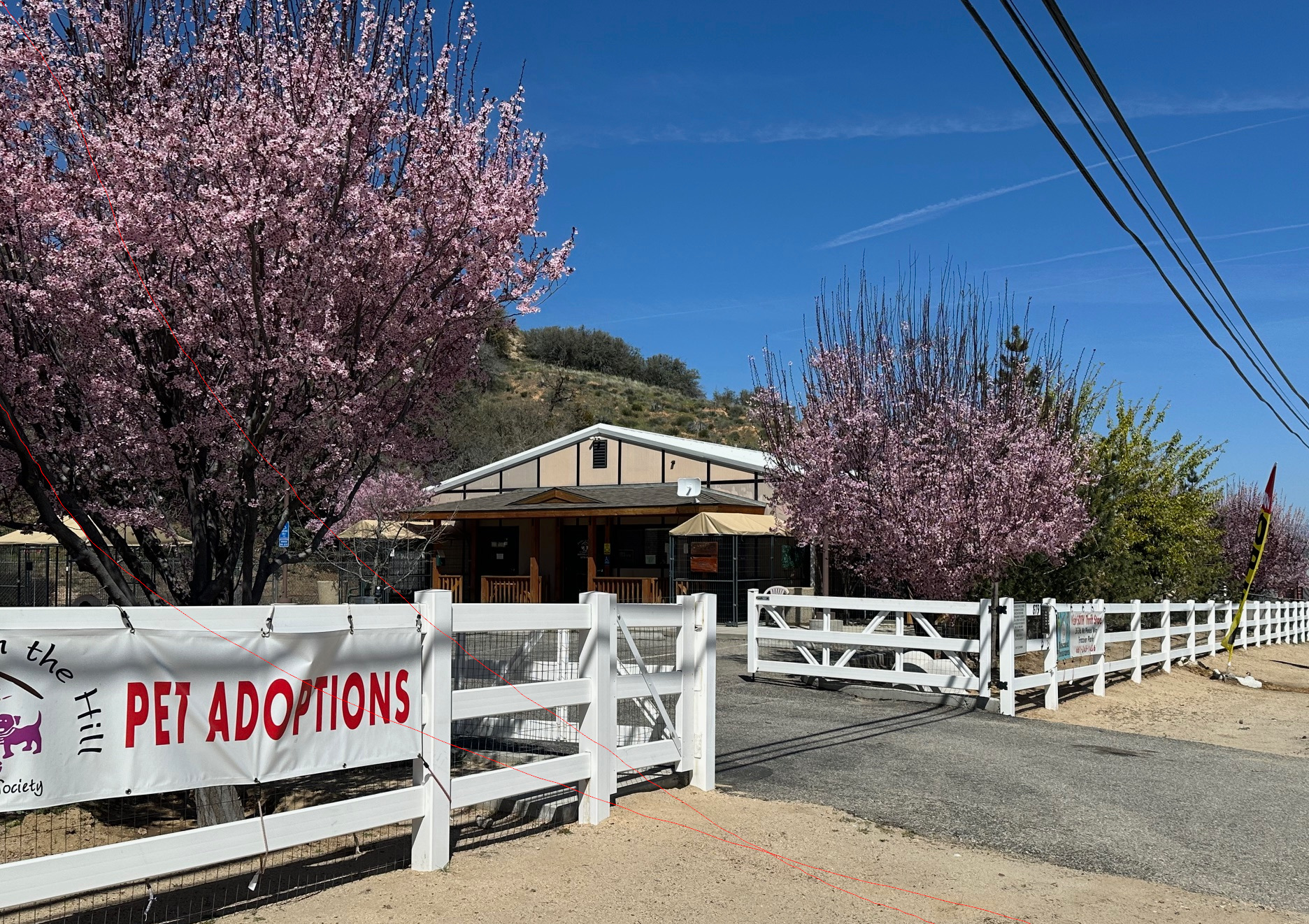 Dedicated to promoting humane treatment and quality of life, SOTH accepts all animals in need of care, provides appropriate medical and behavioral intervention, rehabilitation, socialization, and adoption efforts to save the lives of as many adoptable animals and remains committed to the welfare of these animals beyond the adoption process to the extent of its resources - and offers community support through a myriad of services including but not limited to, lost and found, sheltering, adoption, foster care, behavior and training, humane education, pet assistance for people in need, and inter-agency networking.
---
Dog of the Month
Leroy is one of three pups who have had a less than loving start to life. Leroy is learning how to play fetch, knows how to sit and lay and is currently working on stay but is still a little on the cautious side and a bit nervous when put into new situations. He has a great work ethic and once he knows you and trusts you, becomes a combination of goof ball and cuddle bug. Leroy will flourish in an environment that gives him time and does not pressure him but rather slowly challenges him to push out of his comfort zones. This adoption will include some additional professional assistance as Leroy transitions into his new family.
Cat of the Month
Cabby Tat is extremely human friendly and is actually learning to comingle with the cat colony. She is easy to pick up, snuggles quickly and truly enjoys human companionship. She would make an attractive, loyal, human friendly feline, low maintenance (short hair) family member. If you ever thought of owning a freckle faced red head cat, Cabby is waiting for you to pick her up. She relishes the attention of humans, not so much other cats. She is quick and strong, two necessary qualities of a mouser. Something you will need to find out for yourself as we have no mice to test her with. But the qualities are there. She is spayed, approx 1 year old, orange tabby with key lime green eyes. Please come visit her at Shelter on the Hill.
Last edited 18 January 2015 1745 PST