| | |
| --- | --- |
| | Shelter on the Hill, A Humane Society |
Visit the Thrift Store Facebook
page for this week's featured items!
Home
President's Message
Our Animal Care Center in Lebec houses, rehomes, and spay/neuters nearly 200 lost and abandoned animals each year. That's a lot of work and our fabulous volunteers do it great with dedication and love.
But we all have to let our hair down once in a while and Shelter on the Hill does it every September. What better way to celebrate our furry friends that tasting great wine in real vineyard on one Tejon Ranch's beautiful hillsides!
September 26th will be the 12th year of an event which includes fine wines, craft beers, wonderful cheeses & gourmet foods, live music, lots of door prizes, and over 100 exciting live and silent auction items from entertaining to exquisite, all in an incomparable mountain setting.
Wines will be available from J&J Cellars, Bianchi Winery, Leucadia, Kenneth Volk Vineyards, Del Rey Vineyards, Tejon Ranch's own, and the amazing Lobo Wines from Wulff Vineyards.
Pre-event tickets are just $25.00 per person in advance, available at the SOTH Thrift Store (661) 245-1436 and at Frazier Mountain Real Estate (661) 245-2257, in Frazier Park or by mail. Tickets are $35.00 per person at the gate. Call 245-1215 for more information.
The Holiday Inn Express in Lebec is only two miles from the vineyard and again has special rates for this event . Call (661) 248-1600 for reservations and be sure to mention "Wine & Cheese"!
Candace Huskey-Brown
President
Shelter on the Hill, A Humane Society
Summer at Last - Time to Go Camping, Hiking, and Losing Your Dog?
Being in the great outdoors in the summer is an experience that many people enjoy - and many of us like to enjoy it with our furry friends. But the great outdoors has so many temptations for our furry friend which can lead him astray. As in far, far, away astray.
What should you do? First wait. Give Rover time to realize he's probably not going to catch whatever he was chasing after all. Then give him some more time to realize he's all alone in a strange place. That's when he'll start trying to retrace his trail back to the place where he last saw you.
If you have to leave the area and your companion still hasn't returned leave some of your clothing. Take an article of clothing that has been worn at least all day, the longer the better, so the lost dog can pick up the scent. Leave it at the location where the dog was last seen.
If you have a container for water, leave it there also. Do not leave food. That may attract your dog but it will also attract animals that may harm your dog. Next, if you don't have a map of the area go the nearest ranger station and get one. Plot exactly where you were when you last saw the dog. Go back and leave some clothing if you haven't done that already, If the dog has a a special blanket with his scent and/or a familiar toy take that also. Leave a large bowl of water there too, as the dog probably hasn't had access to any. Do not bring food as this could attract other animals that the dog might avoid. You might also want to leave a note requesting item(s) not to be moved and why and include your contact information.
Come back the next day, or check intermittently if possible. Hopefully the dog will be waiting there. If not, walk about calling his name and use words or phrases he might recognize like "cookie" or "dinner time". If your car or truck was close to the area the dog went missing blow the horn. The dog may be exhausted and scared, hiding under a bush nearby. Scan the area in all directions looking for movement as you call and honk.
To expand your search area, use your map and be systematic in your approach. Plot search circles at 25, 50, 100 150, 200 yards out and leave articles of clothing or pieces of a nice and smelly blanket at each distance: this makes a sight trail for you and a scent trail for your dog. Don't give up - check the location at least daily, more often if you can. If the dog has been missing more than a day or two, he will be scared and may not recognize you at first and run. Be careful - if you spot him, use your voice to call. Get down and call him in baby voices like when he was a puppy. And when he finally rushes into your arms give him lots of hugs and kisses, just like he's giving you.
Motto
Shelter on the Hill continues to strive to meet the needs identified by residents nearly 20 years ago: to RESCUE companion animals from the dangers of the street, REUNITE lost pets with their loved ones, and REHOME adoptable animals to a new and loving family.
Mission Statement
Shelter on the Hill: A Humane Society, (SOTH), is a private, non-profit, donor supported, organization whose purpose is to operate a haven to rescue, reunite and re-home lost and abandoned companion animals in the Frazier Mountain area of California.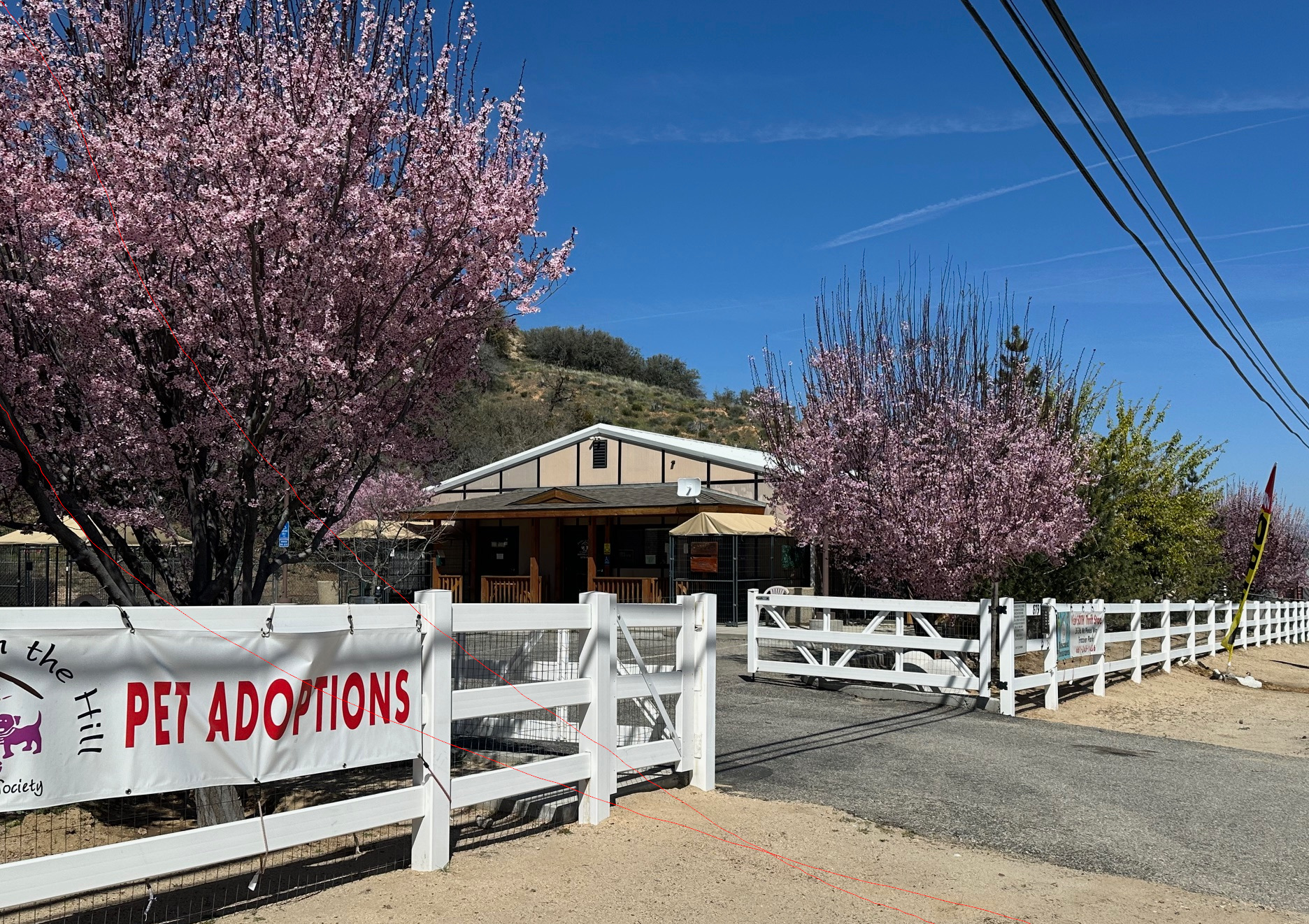 Dedicated to promoting humane treatment and quality of life, SOTH accepts all animals in need of care, provides appropriate medical and behavioral intervention, rehabilitation, socialization, and adoption efforts to save the lives of as many adoptable animals and remains committed to the welfare of these animals beyond the adoption process to the extent of its resources - and offers community support through a myriad of services including but not limited to, lost and found, sheltering, adoption, foster care, behavior and training, humane education, pet assistance for people in need, and inter-agency networking.
---
Dog of the Month
Dante is intelligent, eager to please and friendly. He plays well with the other big dogs at the shelter. He is 3 years old, neutered and vaccinated.
Cat of the Month
Cookie is a beautiful sleek one year old shorthair black cat. Cooper is her kitten. She plays with gusto. Cookie prefers to be an only cat, relates to people but not well with other cats/dogs.
Last edited 28 August 2015 2100 PDT