And the Rocket's Red Glare . . . .
BOOM..... BAMBOOOOM..... CRACKLE.... CRACKLE.... BOOOMMM !
Pant, pant, pant, whimper, whimper, pant, whimper. . . .
CRACKLE... BARROOOM.... BOOMMMMMMM..... BOOMBOOM !
Alarmed by the loud noises, Max cries and runs aimlessly around the house, searching in vain for someone to protect him, someone to comfort him, but no one is home.
The awful noises become unbearable for Max. He crashes through a window in the living room and runs down the street. Terrified of the loud noise and strange bursts of light in the sky, he continues to run, and run, and run . . . .
Bbbrrrrringggg . . .
"Good morning, Plainview Shelter."
"We are frantic. The window is broken and our dog, Max, is gone. We've looked all over for him. He's a 2-year-old shepherd mix. Has he been brought in?"
"You'll have to come in and check. Dozens of dogs were picked up last night."
And so it goes. July 5th is the busiest day of the year at animal shelters. Dogs are found miles from their homes, confused, disoriented, and exhausted. People call hoping to locate a missing dog that, terrified, crashed through a window, jumped a high fence, or broke it's leash or chain.
Please protect your dog this July 4th. If fireworks upset him, make sure someone stays with him. If you wish to tranquilize him consult your family veterinarian. Or call an animal behaviorist to work with your pet, but call well in advance of Independence Day. Be your dog's best friend. Help him with his fears, and keep him safe.
Candace Huskey
Shelter on the Hill continues to strive to meet the needs identified by residents nearly 20 years ago: to RESCUE companion animals from the dangers of the street, REUNITE lost pets with their loved ones, and REHOME adoptable animals to a new and loving family.
Shelter on the Hill: A Humane Society, (SOTH), is a private, non-profit, donor supported, organization whose purpose is to operate a haven to rescue, reunite and re-home lost and abandoned companion animals in the Frazier Mountain area of California.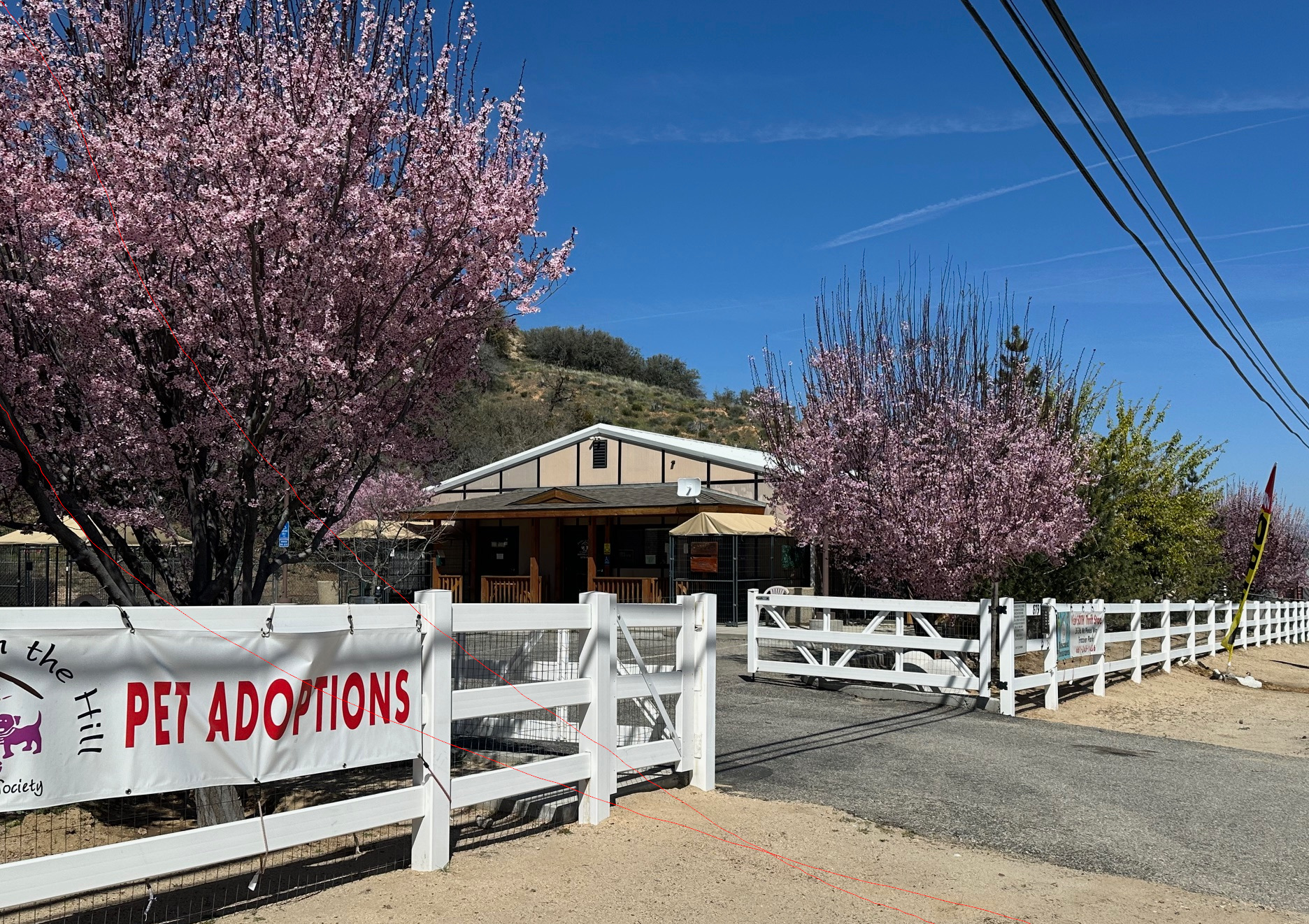 Dedicated to promoting humane treatment and quality of life, SOTH accepts all animals in need of care, provides appropriate medical and behavioral intervention, rehabilitation, socialization, and adoption efforts to save the lives of as many adoptable animals and remains committed to the welfare of these animals beyond the adoption process to the extent of its resources - and offers community support through a myriad of services including but not limited to, lost and found, sheltering, adoption, foster care, behavior and training, humane education, pet assistance for people in need, and inter-agency networking.