September Is National Preparedness Month: What You Can Do
If an emergency occurred tomorrow, would you be ready? Sponsored by FEMA, National Preparedness Month aims to educate and empower Americans to prepare for and respond to all types of emergencies, including natural disasters and potential terrorist attacks.
National Preparedness Month is a time to prepare yourself and those in your care for emergencies and disasters, both large and small. Whether it's tornados, flash floods, earthquakes, even a water main break or power outage can impact a community for days at a time.
You don't have to be helpless in the face of an emergency. This is the time to take action - make sure that you and your family can go for at least three days without electricity, water service, access to a supermarket, or other local services. And make sure that your pets are included in your planning by doing the following:
ID your pet! Make sure your pet's tags are up-to-date and securely fastened to your pet's collar. If possible, attach the address and/or phone number of your evacuation site. If your pet gets lost, his tag is his ticket home. Also consider microchipping your pets.
Make sure you have a current photo of your pet for identification purposes.
If you have to leave your home do have pet emergency kit ready to go with your pet:

Pet food
Bottled water
Medications
Veterinary records (proof of s/n and vaccinations)
Cat litter/pan and/ potty pads
Manual can opener
Food dishes
First aid kit and other supplies
Identify possible evacuation centers in advance. For public health reasons, many emergency shelters cannot accept pets so also locate hotels/motels that permit pets. Include your local animal shelter's number in your list of emergency numbers.
Make sure you have a secure pet carrier, leash or harness for your pet so that if he panics, he can't escape.
Have newspapers on hand for sanitary purposes
Plan to feed animals moist or canned food so pets will need less water to drink.
Animals have instincts about severe weather changes and will often isolate themselves if they are afraid. Bringing them inside early can stop them from running away. Never leave a pet outside or tied up during a storm.
Separate dogs and cats. Even if your dogs and cats normally get along with each other, the anxiety of an emergency situation can cause pets to act irrationally. Keep smaller pets away from cats and dogs.
In an emergency, you may have to take your birds with you. Make sure that the bird is caged securely and the cage is covered by a thin cloth or sheet to provide security and filtered light.
If you evacuate your home, DO NOT LEAVE YOUR PETS BEHIND! Pets most likely cannot survive on their own and if by some remote chance they do, you may not be able to find them when you return.
If you are going to a public shelter, it is important to understand that animals may not be allowed inside. Plan in advance for shelter alternatives that will work for both you and your pets; consider loved ones or friends outside of your immediate area who would be willing to host you and your pets in an emergency. Locate pet friendly motels/hotels in the area you think you might have to evacuate to well in advance.
Make a back-up emergency plan in case you're not home when disaster strikes. Develop a buddy system with neighbors, friends and relatives to make sure that someone is available to care for or evacuate your pets if you are unable to do so.
FEMA's Ready.gov website provides much more and detailed information on what may be most important to you and your family. You can find specific information tailored to specific needs such as people with disabilities, seniors, assisting children, business readiness, and more information for you pets Ready.gov. Be ready, be safe!
Candace Huskey
Shelter on the Hill continues to strive to meet the needs identified by residents nearly 20 years ago: to RESCUE companion animals from the dangers of the street, REUNITE lost pets with their loved ones, and REHOME adoptable animals to a new and loving family.
Shelter on the Hill: A Humane Society, (SOTH), is a private, non-profit, donor supported, organization whose purpose is to operate a haven to rescue, reunite and re-home lost and abandoned companion animals in the Frazier Mountain area of California.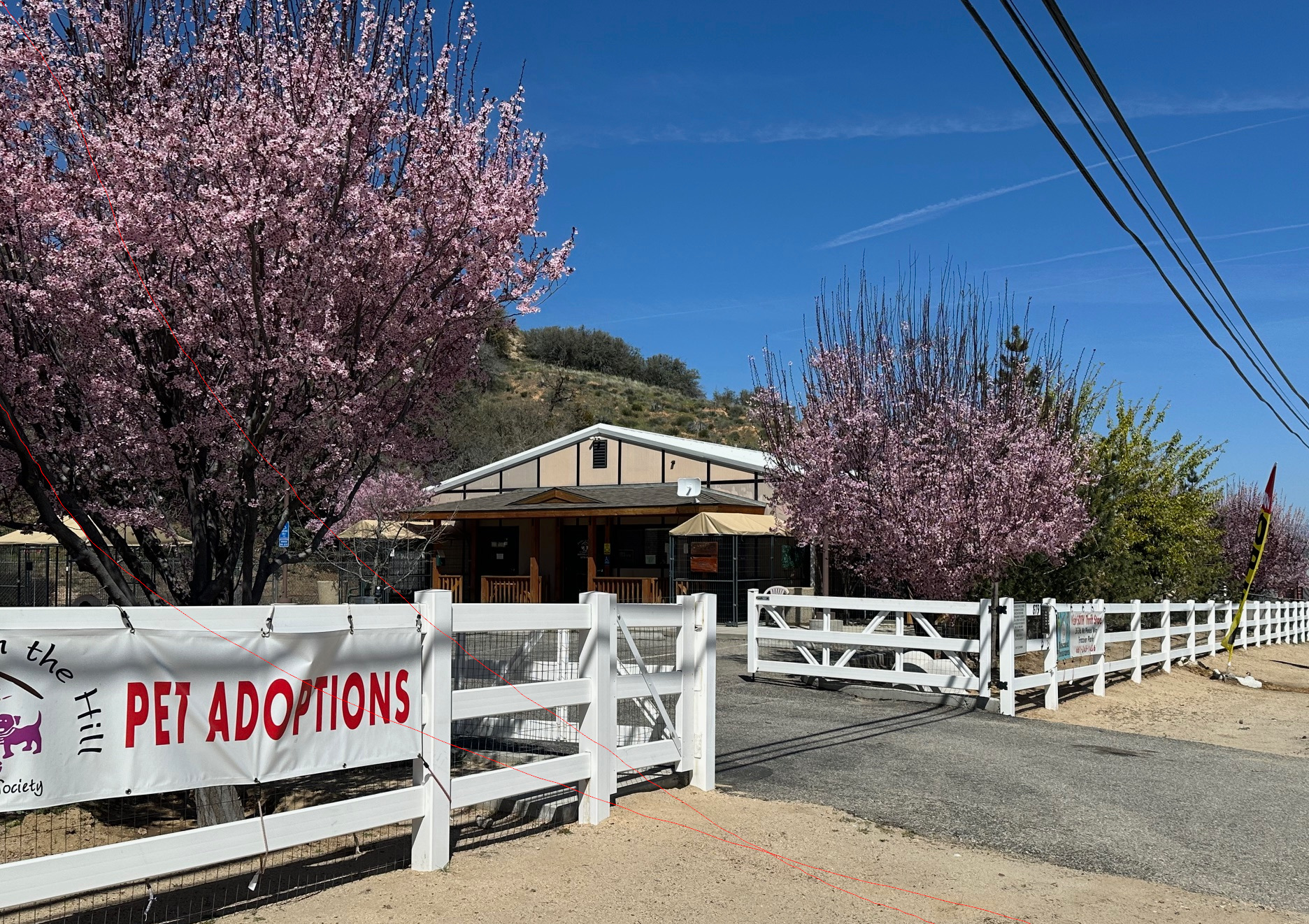 Dedicated to promoting humane treatment and quality of life, SOTH accepts all animals in need of care, provides appropriate medical and behavioral intervention, rehabilitation, socialization, and adoption efforts to save the lives of as many adoptable animals and remains committed to the welfare of these animals beyond the adoption process to the extent of its resources - and offers community support through a myriad of services including but not limited to, lost and found, sheltering, adoption, foster care, behavior and training, humane education, pet assistance for people in need, and inter-agency networking.